Experience The Sharpest And Most Affordable Knives On The Planet!
The Damascus Steel Knives With Blue Resin Handle collection by Kogami combines outstanding award-winning craftsmanship, with breathtaking design. Using advanced technology and the highest quality materials these knives outperform any other kitchen at this price point.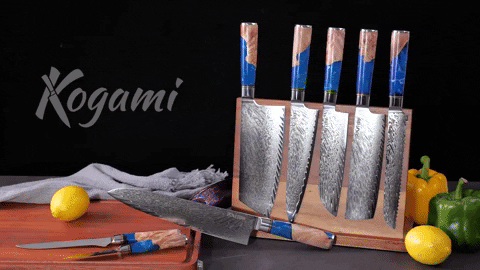 Kogami Knives Are Ruthlessly Sharp: 
These aren't dramatized. Each and every knife is sharpened to absolute perfection before being delivered to you. Chop through a pineapple-like soft butter, and slice paper-thin cuts of tomato. A Kogami Steel blade is sharp as they come and stays that way.
Our Knives Last A Lifetime: 
Every knife is made
of 
66 layers of Damascus steel around a high carbon VG10 steel core. 
That means 
durable
, 
resistance to long-term corrosion
, and a 
sharper blade
. 
Unlike most kitchen knives these authentic Damascus steel blades are not altered or etched. Each set is one of a kind.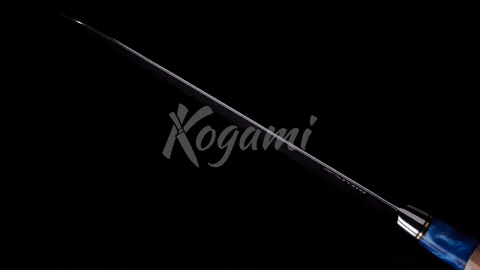 Every Handle Is One-Of-A-Kind:
Our handles are made of wood, which then undergoes a process known as stabilization. The wood is filled to the core with our beautifully colored resin, creating a unique and handcrafted grip every single time. This not only creates a beautiful handle that is unique to your order, but the resin provides better durability than traditional wooden handles and is less likely to warp or crack.
Our Full Set Includes: 
5" Utility knife

6" Boning knife

7.5" Chef knife

7.5" Bread knife

7" Santoku knife

8" Chef knife

9.5" Chef knife
Our Knives Are Affordable: 
While each individual knife is a steal in its own right, our bundles provide a massive discount! Save Up To 50% When buying ANY of our value bundles.
KOGAMI KNIVES WON'T STICK

KOGAMI KNIVES ARE THE SHARPEST ON THE MARKET

FAQ:
Do you offer worldwide shipping?
Yes! We can get your knives anywhere in the world!
Do Damascus Steel knives require special care?
Not particularly. The best practice is to avoid the use of the dishwasher and to try after use, but our knives are extremely easy to care for.
How long until I get my knife?
Our knives are all hand-made, and as such usually deliver within 2 weeks, though this may depend on your location.
What are the shipping costs?
Shipping is 100% Free for all US orders!
Unfortunately, International Packages require a flat $8.95 Shipping Cost
No Reason Not To Buy:
Tracking With Every Order
100% Encrypted SSL Secure Checkout
Unbeatable 24/7 Customer Service
No-Risk Money Back Guarantee
Kogami means quality and security, and we strive to provide that to every customer. In addition to providing a safe user experience through our 100% Encrypted SSL Secure Checkout, we offer an unbeatable No-Risk Money Back Guarantee. If you don't love your knives, simply reach out to us at support@kogamisteel.com